Why delivering a Data Science Project is just like taking a trip to a remote Russian oblivion… (and how some good local support can make or break your visit).
Stick with me here – it sounds obscure but it works.
Next time you're embarking on a new project, imagine you're taking a trip to Petropavlovsk-Kamchatsky.
Petropavlovsk-Kamchatsky is one of the most remote cities in Russia (and the world). There is no road access, it is surrounded by volcanoes, and is in the most seismically active region on the planet. BUT.. people go there – it's a hotspot for adventure tourism, hunting, fishing and sightseeing. You can see where I'm going with this – the trip has many potential hazards but there's lots to be gained by successfully navigating the minefield of potential pitfalls (with the help of some local resources: maps, a tour guide, translators, activity instructors...)
So, what does this have to do with a data science project?
When we started our ecda 'journey' our map looked like this: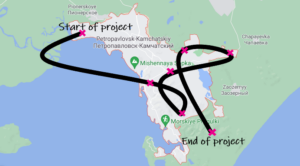 ...and our translator spoke only one language. We took inefficient routes. We wasted time. We got lost a lot. So we put pen to paper to start developing the ecda Project Lifecycle. We started with mistakes made in our first year, and the many opportunities we had identified for improvement. The fundamental theme behind not delivering MORE or BETTER being that of unclear process. Today the lifecycle is a step by step, five-phase framework linking all activities, processes, policies and templates required to effectively deliver one of our data projects.
And my job? Tour guide.
Though I didn't write the laws, rules, customs, or develop the language... I exist to navigate and interpret them all to make them more accessible and valuable to everyone involved.
I cannot give you the perfect itinerary to suit your trip, however I can share some key things we learned, give you a taster of some of the maps we've drawn up to navigate our way around the data project plain – and offer myself out as a translator for those who are looking to identify ways to improve and streamline their project processes, too. Although don't test my Russian, it's a bit rusty.
Data sharing is a minefield.
There are arguably some more sensitive elements of a project than others. Take information governance – our process for ensuring the sharing and handling of our citizens data is legal, ethical, secure and efficient. The project lifecycle guides us through the processes required by law, as well as our additional checks and balances, and aims to minimise delays to the project.
Like a map and itinerary, it helps us successfully navigate by providing a comprehensive list of activities, steps, timings, all in the most efficient order. The lifecycle provides a structured framework for the team to follow, ensuring no key steps are missed, and promoting consistency across our portfolio.
This structure also enables forward planning and big picture thinking, an understanding of where all the elements of a project fit in… and ultimately stops us from getting lost in an earthquake region.
I repeat…. Data sharing is a minefield.
We all get it wrong – sometimes. The key is to take the blunders and use them to your advantage. The aim of the game shouldn't be to never make a mistake, it should be to not make it TWICE.
We recently re-jigged our 'lessons learned' review structure within our lifecycle. It's an important opportunity to encourage discussion within the team to surface their experiences throughout the project, asking how and why enables us to propose improvements for implementation in future projects. We don't just do this at project closure, we do it as frequently as necessary to capture any key learnings and it sits well alongside a formal project evaluation. Fail forward and fail well.
Although the bones of the framework, and the supporting processes, will remain fundamentally unchanged – the lifecycle is a living document. There is always room for improvement – slight adjustments and additions that can make a big impact on delivery.
Sometimes taking a wrong turn can lead you to something unexpectedly pleasant (unless you're on a hunting trip in remote Russia).
Cross-organisational working (and Data Sharing) is a minefield.
Most of us aren't multi-lingual. In a foreign environment we have two options: fumble by in our own tongue and likely make mistakes, or team up with someone who can interpret the local language and customs and get a far more optimal experience.
Data Sharing projects will typically involve more than one organisation – colleagues from two or more different cultures interpreting everything according to their own organisational values and customs. The key is to identify commonalities and differences early, remain open-minded, and always be willing to work together. Share skills, share resources - it will ultimately lead to the best outcome for all, and you inevitably learn something valuable along the way.
The lifecycle has been developed by all of ecda – Essex Police, The University of Essex, and Essex County Council – each of us investing our own experiences of best practice into the framework for all to benefit from. As a team we developed it and its crucial that it's a team effort in applying it. Although we have tailored the framework specifically for ecda's needs – it can be adapted for all types of data science, data sharing and analytics projects or initiatives, providing a framework of activity that, if followed, enables and promotes efficient, timely, ethical, compliant deliverables.
If you find yourself wondering whether the map you have is up-to-date, or you're unsure if your tour guide understood your instruction, it might be time to invest in mapping out your process - it's time well spent.
Following processes doesn't need to mean jumping through bureaucratic hoops.
Processes and policies are there for good reasons and should be designed to work for everyone.
Where it doesn't work – speak to your local tour guide and figure out how you can adapt.
And here's our new map: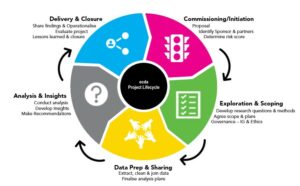 So... if you're working in the data science and analytics space, whether it be as an analyst, coordinator or leader – and wondering if you could also do with changing things up or streamlining something – reach out. We may not have the perfect solution but, without a doubt, there is always something we can learn from one another – 2 (or 20) heads are better than 1 when trying to find a solution to a common problem!
We're proud of our forward failings, our continuous improvement, and excited to learn even more. This is a resource we want to share, embed across the Essex system, and enhance with learning from our peers – so get in touch.  And if you just want to share more similarities between data science and international travel (if anyone can remember what that even is…) you'll find us at ecda@essex.gov.uk