The authentic, lived experiences of Essex young people are the narrative for a new hard-hitting short film that aims to educate the public on the dangers of County Lines – the name given when drug gangs exploit young people to carry, and sell, drugs for them.
Filmed on location across greater Essex, it depicts how drug deals are carried out on the way home from school and how young people are used to move drugs around the county, exploited, coerced and groomed by gangs.
The film's voiceover isn't scripted. It's the unedited, unfiltered words and stories of young people living in Essex, some of whom feature in the film. And consequently, it's extremely powerful.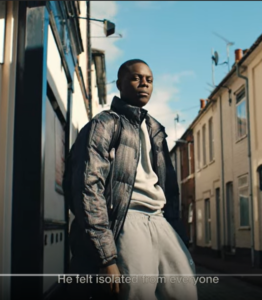 One young man tells how his involvement led to a prison sentence and a bleak looking future. It also shows how young people try to support their friends when they are in trouble and how having positive interests, such as sport, can help avoid recruitment by County Lines gangs.
You might be wondering what this has to do with data!
Commissioned by the Violence and Vulnerability Unit, the film is a key component of a behaviour change campaign to help 11-16-year old's develop an understanding of exploitation, highlighting the personal risks, and providing skills and tactics to recognise and avoid risky situations. The campaign was informed by insight from the Essex Centre for Data Analytics' (ecda) youth violence and vulnerability analytics work.
ecda joined social care, education and crime data from Essex County Council (ECC) and Police to create a detailed picture of youth vulnerability and violence which was further bolstered by additional in-depth citizen research conducted by ECC with 145 young adults from 12 districts in Essex, who told us that they wanted help to:
Rehearse and prepare decisions and figure out where they stand in advance of being in the situation
Feel more positive and therefore be less likely to engage in risky behaviours
Create peer to peer role models and a positive image of those who avoid risky behaviour and increase aspirations to be like them
Challenge the social norming and reduce perceived pressure to 'say yes'
Provide credible reliable information that helps young people understand and appreciate the risks of each behaviour.
The film was initially used as a social media campaign, and following powerful feedback from adults who have seen it, it is being used to promote the issues to a wider audience through a new website www.essexcountylines.co.uk  and to encourage a dialogue between parents, carers, those who work with children and young people to safeguard vulnerable young people.
We hope that it empowers young people and raises awareness of what is happening in our county.
We also hope that it inspires our colleagues in Essex about what's possible with data.
The data we hold about how people access our services is knowledge at our fingertips. And the ever-increasing volume of data available to us is giving us more knowledge than we've ever had. When data is joined it can create a detailed understanding of an issue or place, which when matched with the experiences of our citizens, can provide highly skilled professionals with valuable evidence to design and deliver early intervention services.
Data has become one of our most important assets in protecting people and preventing them from harm. Yet it remains the biggest untapped potential in the public sector.
Let's unleash the power of our data.